CARE GLOW Vitamin C Foaming Face Wash
pH balanced, gentle on skin, non drying formula.
Brightens & evens skin tone, neutralizes free radicals caused by oxidative damage.
₹ 550.00
Regular price
₹ 584.75
Unit price

/

per
Quantity selected exceeds current stock
Price is high
Price is high but product is good
Smells like heaven. Foaming a bit too much.
Nice foam. Only good for morning routine
Nice foam. Only good for morning
Adding product to your cart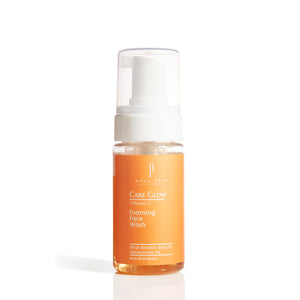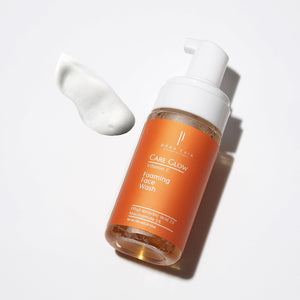 Description
Make your skin light and bright with Care Glow's Vitamin C Foaming Face Wash. Infused with Vitamin C, the face wash gives a boost to the skin's glow.
The formula penetrates deep into the skin to remove impurities. Enriched with the goodness of Vitamin C, the face wash also helps reverse sun damage.
The powerful yet gentle foaming texture cleanses the skin without drying. Scrub away the dead cells and embrace the radiant skin!
The unique formula helps remove buildup and excess oil while retaining the moisture in the skin. It gently exfoliates and unclogs the pores to boost skin glow. It also provides balanced hydration while reducing irritation and redness of the skin.
The Care Glow Vitamin C Foaming Face wash neutralizes oxidative damage caused by free radicals. The highly effective pH balance will leave your skin feeling healthy.
Key Ingredients : 
Ethyl ascorbic acid
Ethyl Ascorbic Acid or EAC for short is an "etherified derivative of ascorbic acid" that consists of vitamin C and an ethyl group bound to the third carbon position. This makes Vitamin C very stable and soluble in both water and oil.
Niacinamide
Niacinamide reduces inflammation & Minimizes pore appearance keeping the skin smooth and moisturized.
Aqua, cocomonoethanolamide, sodium laryl sarcosinate,glycerine, propylene glycol, salicylic acid, cocamidopropyl betaine, niacinamide, ethyl ascorbic acid powder, neem extract, witch hazel extract, tea tree extract,licorice extract, horse chestnut extract, pine bark extract, hibiscus extract, D-panthenol, phenoxyethanol, triethylene glycol, sodium gluconate.
Usage Advice
Patch test recommended :

If you're adding Care glow Vitamin C foaming face wash to your skin routine for the first time, we recommend applying a small amount on cleansed skin on your inner arm. Wait for 24 hours to note if irritation occurs. If you notice any irritation such as burning or redness, rinse off & discontinue using the product.

Store in a cool & dry place. For External use only.
Product FAQ's
1.Is it suitable for all skin types ?
No, It's not suitable for super dry/ extra sensitive skin type as the active constituent - Ethyl ascorbic acid might irritate your skin.And, a a patch test is much recommended if you're adding it to your skin regimen for the first time.

2. When should I use this ?
AM-PM routine

3. Why is it 'dermatologist recommended' ?
All our formulations are uniquely developed & manufactured by GMP certified manufacturers & then tested to be safe on skin. Top dermatologists recommend our products based on the positive feedback they hear from the consumers. We strongly believe you should leave your skincare in the hands of a skin expert. And always buy products post the expert's approval only.

4. Can i use this with my prescription medication ?
We recommend you to consult your dermatologist as the expert can help you better.