PROTEGO 46 Hybrid Mineral sunscreen ( NEW PACKAGING )
SPF 46 protection, No white cast.
Protego 46 has micronised zinc oxide for better absorption.
₹ 761.86
Regular price
Unit price

/

per
Quantity selected exceeds current stock
Pls make your products available
I have been using sunscreen from two years and it's really good. Also I do like products of it. You care. I just have a one small request. Please make your products available.
Little oily good fragrance lovely looking bottle
Little oily good fragrance lovely looking bottle
Packaging Is fab. Product ok
Packaging is fab. Product ok
Adding product to your cart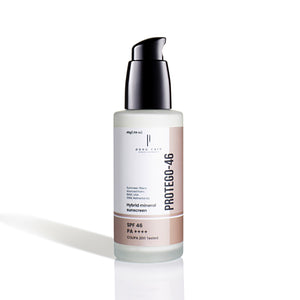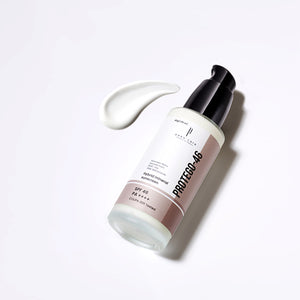 Description
Protego Perfect 46 is an innovative mineral based hybrid sunscreen, suitable for all skin types, this first of its kind formulation that has been formulated to provide an optimum sun protection.
The active elements of the sunscreen, Titanium Dioxide and Zinc Oxide are in the 'GRASE' category of compounds listed by FDA which means they have already been recognised as safe and effective. Titanium Dioxide-an inert earth mineral, has skin brightening and spot reduction properties and it also protects the delicate skin from both UVA and UVB harmful radiations. Its application imparts a heavenly glowing and an elegant fairer look. On the other hand, Zinc Oxide has skin healing properties with its topical application curing rashes, burns and chapped skin. Its presence makes the sunscreen curative against all skin irritations and strengthens the tissues as well. This specially developed combination provides an overall protection from sun by a factor of 46 (SPF 46). The aqueous base and the fragrances used are completely organic and the whole formulation is devoid of harmful Para-Benzene derivatives paraben and sulphate salts.
This mineral sunscreen comes in an ergonomically designed special bottle for easy application and the distinct packaging ensures the same quality over a long time. The product is developed after a rigorous and all-inclusive analysis, is eons ahead the contemporary brands. 
Key Ingredients :
Zinc Oxide 
Considered one of the best sunscreen ingredients we have access to. Blocks both UVA and UVB rays.
Titanium dioxide 
A great broad spectrum sunscreen ingredient for sensitive, redness prone skin. 
Aqua, glycerine, Sodium gluconate, glycereal stearate, aluminium starch,octenylsuccinate,cetosteryl alcohol,stearic acid, isopropyl myristate, sodium benzoate, potassium sorbate,micronized titanium dioxide, micronized zinc oxide,ethylhexylolivate,triethanolamine,potassium cetyl phosphate,jojoba ester, ethylhexyl cinnamate,ethylhexyl salicylate,tocopheryl acetate, fragrance.
Usage Advice
Patch test recommended :

If you're adding Protego 46 Hybrid sunscreen to your skin routine for the first time, we recommend applying a small amount on cleansed skin on your inner arm. Wait for 24 hours to note if irritation occurs. If you notice any irritation such as burning or redness, rinse off & discontinue using the product.

Store in a cool & dry place. For External use only. 
Product FAQ's
1. Is it suitable for all skin types ?
Yes, it's suitable for all skin types. But, a patch test is much recommended if you're adding it to your skin regimen for the first time.

2. When should I use this ?
AM routine - After cleansing, treatment serum ( if any ), add a pea size amount on face & neck. Re-apply during the day if required.

3. Why is it 'dermatologist recommended' ?
All our formulations are uniquely developed & manufactured by GMP certified manufacturers & then tested to be safe on skin. Top dermatologists recommend our products based on the positive feedback they receive from the consumers. We strongly believe you should leave your skincare in the hands of a skin expert. And always buy products post the expert's approval only.

4. Can i use this with my prescription medication ?
We recommend you to consult your dermatologist as the expert can help you better.